Federal and State Programs

Montana FWP

administrates most grant programs that local clubs can participate in. We encourage you to contact Seth McArthur at FWP or your District Representative to learn more on how your club can take advantage of these various programs (see the

About Us

page for contact details).

---

The Montana Snowmobile Program provides grant funding to support snowmobile trail grooming and education so enthusiasts can ride safely in Montana. Montana State Parks administers the snowmobile program and its 4,000 miles of trails.
The funds that support the snowmobile program are completely separate from all Montana State Park revenues, camping fees, and related funding sources.

---

Montana State Parks administers the Recreational Trails Program (RTP), a federally funded grants program that supports Montana's trails.
The RTP funds come from the Federal Highway Trust Fund, and represent a portion of the motor fuel excise tax collected from nonhighway recreational fuel use: fuel used for off-highway recreation by snowmobiles, all-terrain vehicles, off-highway motorcycles, and off-highway light trucks.
RTP applicants can include federal, tribal, state, county or city agencies, private associations and clubs. Examples of eligible projects include: urban trail development, basic front and backcountry trail maintenance, restoration of areas damaged by trail use, development of trailside facilities, and educational and safety projects related to trails.
Montana State Parks collaborates with the State Trails Advisory Committee to review the RTP applicants each year.


---

The MTSGP was authorized by Senate Bill 24 in the 2019 Legislative Session. Funding for the program comes from $1.37 of Montana's $9.00 light vehicle registration fee. Each cycle, the program targets funding 30% motorized projects, 30% non-motorized projects, and 40% diversified projects (projects serving multiuse trails).

​Eligible funding areas include

:

New trail and shared-use path construction;
Rehabilitation and maintenance of existing trails and shared-use paths, including grooming of trails for motorized and nonmotorized winter recreation; and
Construction and maintenance of trailside and trailhead facilities, including but not limited to bridges, fencing, parking, bathrooms, latrines, picnic shelters, interpretation, trail signs, and trailside weed management.

---

---

---

How snowmobile clubs help everyone!

The Montana Snowmobile Program provides grant funding to support snowmobile trail grooming and education so enthusiasts can ride safely in Montana. Montana State Parks administers the snowmobile program and its 4,000 miles of trails.
The funds that support the snowmobile program are completely separate from all Montana State Park revenues, camping fees, and related funding sources.


Avalanche Centers

The MSA partners with all of the avalanche centers and encourages everyone to get familiar with your regional avalanche center.

---

Avalanche.org Forecasts

You can click on any of the locations to access the avalanche center and forecast for that area. If you haven't already, sign up for a Level 1 Avalanche Safety Training Program.

---

Montana Trail Maps

Montana FWP has compiled all the trail maps into one interactive database of maps that you can browse and even download specific areas before you go out.

Other apps are also available with many maps such as Trail Treker and Avenza. These apps allow you to have the map loaded on your mobile device and see your location while you are in the backcountry (without mobile signal coverage).

---

Videos from Some Trails in Montana

---

Other MSA Partner / Supporter Websites
---
---
Montana Snowmobile Trail Pass and Permit Information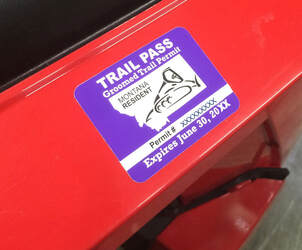 Snowmobiles operating on public land must be registered and display decals placed in a conspicuous space on the left side of the cowling. Registration is different for Montana residents and nonresidents. ​Montana FWP maintains a complete site with all the rules and regulations (click here).
Residents Registration
Montana residents must register their snowmobiles at the County Treasurer's office in the county where the owner resides. This is a one-time registration and valid until the current owner sells the snowmobile.
Resident Trail Pass
Residents must purchase a Resident Trail Pass to legally ride on any of the 4,000 miles of groomed snowmobile trails in Montana. Trail Passes are valid for two seasons and are $20. Trail Passes apply to all "mechanized equipment" including snowmobiles, motorized snow bikes, and fat tire pedal bikes. Anyone using groomed snowmobile trails for recreation is asked to please contribute and purchase the Trail Pass. The revenues go directly to grooming the trails, purchasing groomers, etc.
Exceptions
a person renting a snowmobile registered pursuant to 61-3-321(11)(c), but the person shall carry proof of rental if operating the snowmobile in a snowmobile area that otherwise requires a trail pass pursuant to subsection (1)
a person participating in a sanctioned dog sled race
motorized equipment exempt from registration in Montana pursuant to 61-3-321(14)
Nonresidents
Nonresidents must purchase a Nonresident Winter Trail Pass to legally ride on any of the 4,000 miles of groomed snowmobile trails in Montana. Trail passes are valid for
one season
and are $35 per machine. Trail Passes apply to all dog sleds and "mechanized equipment" including snowmobiles, motorized snow bikes, and fat tire pedal bikes.
Where to Purchase a Permit or Trail PassTrail Passes are available seasonally from October to April.
Apply Online - You may purchase your Resident Trail Pass or Nonresident Snowmobile Permit through the Online Licensing System.
Vendor List - You can also purchase a Nonresident Temporary Use Permit or a Resident Trail Pass at any of the vendors in Montana, Idaho, Washington, and Wyoming.
---
Safety and Education
If you are new to snowmobiling, download and read the safety handbook.

​Note: This file is large and may take a moment to download.


---

Avalanche Safety Training

Click on one of the Avalanche Centers below to view the Education Programs they are offering. We highly encourage all riders to take an Avalanche Safety, Rescue, or Level 1 course. There are a number of programs to help pay for these trainings!

Snowmobiling is a fun and family-oriented activity

A vast amount of National Forest land is open for winter travel. In some areas those traveling by skis, snowshoes, and snowmobiles must share the same routes and areas. Common sense and courtesy will provide a safe and pleasant experience for everyone.

Represent the Sport Well

Be a savvy sports enthusiast. Recognize that people judge all snowmobile owners by your actions.
Use your influence with other snowmobile owners to promote good conduct.
Promote proper snowmobile education and training.
Remember: Someone is likely watching and filming, so play is smart.

Care for the Environment

Do not litter trails or camping areas. Do not pollute lakes or streams.
Snowmobile only when there is sufficient snow so you will not damage the land.
Do not damage living trees, shrubs, or other natural features.
Do not harass wildlife. Avoid areas posted for the protection or feeding of wildlife.

Be Considerate of Others

Respect other people's property and rights.
Do not interfere with hikers, skiers, snowshoers, ice fishermen, or other winter sports enthusiasts. Operate at minimum speeds near other recreationists and do not accelerate until well beyond those on foot. Stop and yield the trail to dogsleds. Skiers and snowshoers should yield the track to oncoming and overtaking snowmobilers, unless the track is wide enough for safe passage.
Lend a helping hand when you see someone in need.
Make yourself and your vehicle available to assist search and rescue parties.

Respect Wildlife

All winter recreationists should be aware that they have an impact on wintering wild animals, most notably that disturbing or displacing them causes them to burn more energy. Minimize your impact on wintering animals by following these guidelines:

Avoid winter range whenever possible.
Do not linger in the presence of animals, move along in a steady, deliberate fashion.
It is unlawful to chase, harass, herd, or rally wild animals.
Keep your machine in well-tuned condition to minimize noise and pollution.
Avoid areas designated as "closed" for wildlife protection.

Practice Safety

Snowmobiling is a fun and exciting sport the whole family can enjoy. However, winter offers certain challenges that require snowmobilers to take precautions.

Ride smart, be prepared, and stay in control.
Check ice and weather conditions before riding. Dress appropriately.
Practice Zero Tolerance with respect to impaired riding.
Never travel alone. Let others know where you are going.

Perform a Pre-ride Inspection

The performance of a pre-ride inspection is paramount to a safe, stress-free ride. Most equipment failures can be avoided by periodic maintenance and inspection. [Learn more]

Safety on Ice - Know the Rules

The safest snowmobiling rule is never to cross lakes or rivers. Besides the danger of plunging through the ice, you have far less traction for starting, turning, and stopping on ice than on snow.

Collisions on lakes account for a significant number of accidents. Don't hold the attitude that lakes are flat, wide open areas, free of obstructions. Remember, if you can ride and turn in any direction, without boundaries, so can other riders. Therefore, the threat of a collision can come from any direction.

If you do snowmobile on the ice, make absolutely sure the ice is safely frozen. Don't trust the judgment of other snowmobilers. You are responsible for your own safety. Drowning is a leading cause of snowmobile fatalities. Know what to do if you go through the ice. [Learn more]

Be Avalanche Aware

Learn to recognize avalanche areas and avoid them.
Carry avalanche rescue equipment including a transceiver, probe pole and shovel, and know how to use them.
Review the local avalanche advisory when available.
Take an Avalanche Level 1, Partner Rescue, or Introduction to Avalanche Safety Course.
Economic Impact of Snowmobiling
Above are two studies done in 2013/14 on the economic impact that snowmobiling has in the state of Montana. The first focuses on fuel spending while the second looks at all spending for the purposes of snowmobiling and motorized snow sport in general. Few other activities promote the economic well-being of so many businesses like snowmobiling.

We hope to update these numbers soon as recent costs and expenditures have skyrocketed by Montana enthusiasts.